(Sorry it's a bit boring, disjointed or off to a slow start. This is my first real story.)
Trapped. It was not so bad, Esme mentally consoled herself, as she carried her son to the fields and extended a free hand to pet one of the cows, her only son resting on her hip. Her father had never been a cause for trouble. Loving and gentle, probably the result of being surrounded only by women for his entire life, Esme's father welcomed his eldest daughter and her son back into the household with open arms.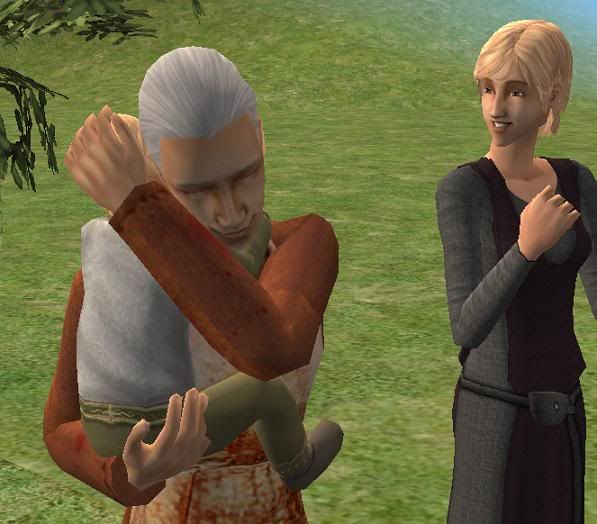 Though the grief of Ethan's passing had been harsh, especially because it was his own money that paid for the voyage that killed him, it had drawn the Silvestres - a trio of daughters, two of them spinsters - closer than they had been since before Julien was born. And Mathis was happy to be the only father figure that Julien would ever have, despite the cost.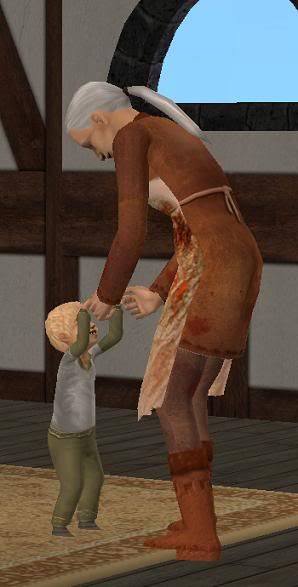 When raising his three daughters, the butcher had never had much involvement; their mother was a doting and loving woman, so it simply was not his place.
That, of course, didn't stop them from pestering him during work. Though Fabienne helped him frequently, evidenced by her bloody bustle skirts, Ariane had always been inordinarily selfish. Unable to have children, the woman never bothered to conform to the strict ideals adhered to by most of the colonists and all of the natives...
Her habit of sneaking off with men of any class and creed was easily ignored by the townspeople, most especially by the wives she was saving trouble by satisfying their husbands for her. Such things were, in fact, lauded among the general populace - provided they could not be proven. Everyone knew about Ethan's affair with his own sister in-law... Everyone but Esme.
Everyone but Esme... until the night that she caught them in the barn and, anguised and horrified, learned that two of the people nearest to her had betrayed her.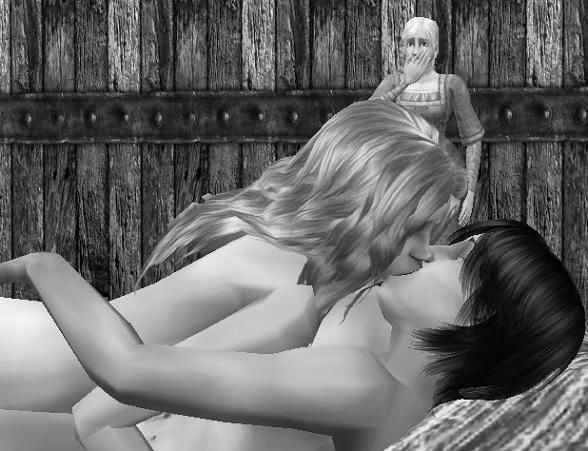 Pulling Julien closer, she nudged his cheek with a kiss before returning her attention to the cows.
~~~~~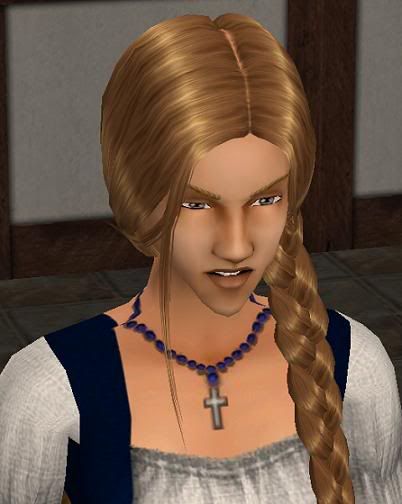 "She's always judging me, you know." The accusation was abrupt, but Fabienne knew who Ariane was talking about. She asked to be polite.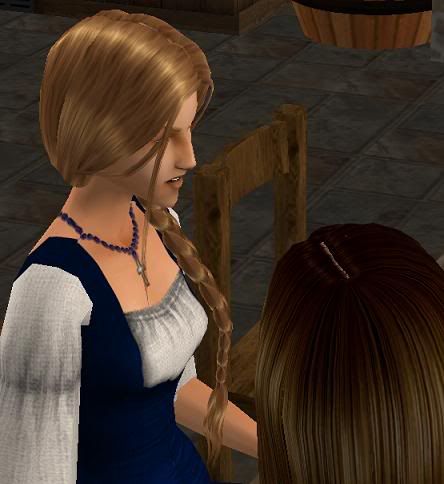 "Esme is - ever since the accident," Ariane responded, looking away almost guiltily.
"I don't think it is only because of the accident, Ariane." Fabienne, almost shyly, did not continue; Ariane knew it was more than only Ethan's untimely death.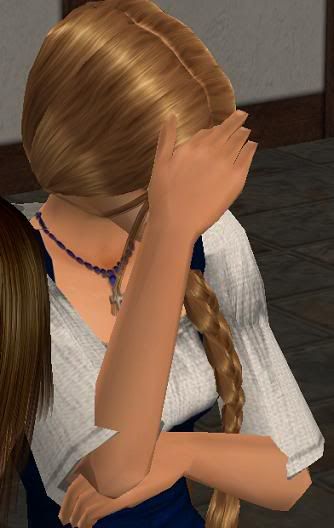 Angrily, the middle child narrowed her eyes at her sister. "I don't need to be reminded. I don't see why she can't live alone, is all. And it isn't as if she married him for love. What I did with him... that was love. She was in it for the money."
"Ariane! What a vicious thing to say," Fabienne said in a rare outburst. "You know that isn't true... I won't stay and listen to you say these things!"
"Fabs," Ariane said weakly, brows meeting. Her sister paused as Ariane rose.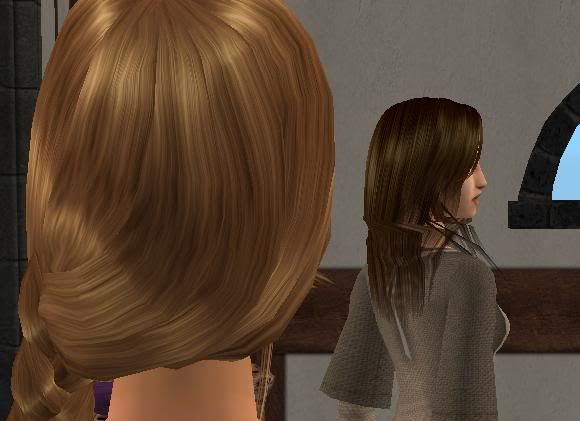 "I miss him, too."
Fabienne nodded, frowning sympathetically. "I know," she said quietly, and turned to point out toward the fields. Ariane stood, moving toward the window to look out. "But this isn't about you any more, Ariane. Don't be selfish. Julien needs us...
All
of us."
~~~~~
It was said that it took a village to raise a child, but with Ariane treating him as if he were
her
child with Ethan...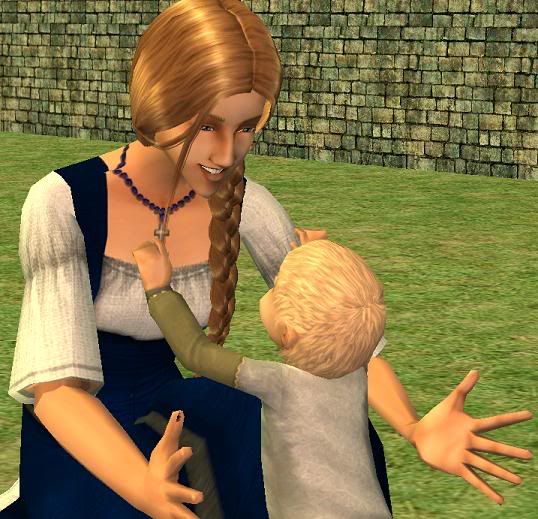 Fabienne being her usual, caring self...
And Esme lovingly teaching him all that she could...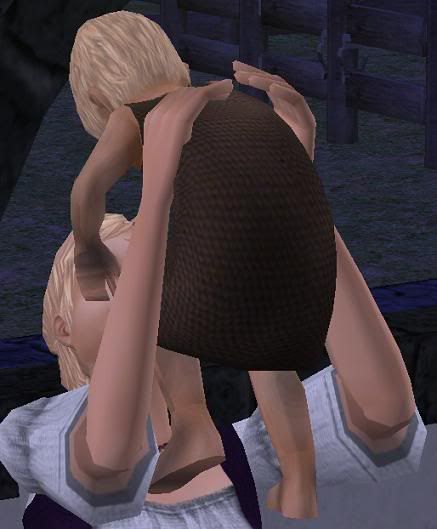 The baby mostly stayed out of trouble.
The aging Mathis came to realize that he enjoyed living with two generations of his family. Having the child brought a sense of peace. He enjoyed taking care of the baby when Fabienne was tending to the farming aspect of the butcher's shop...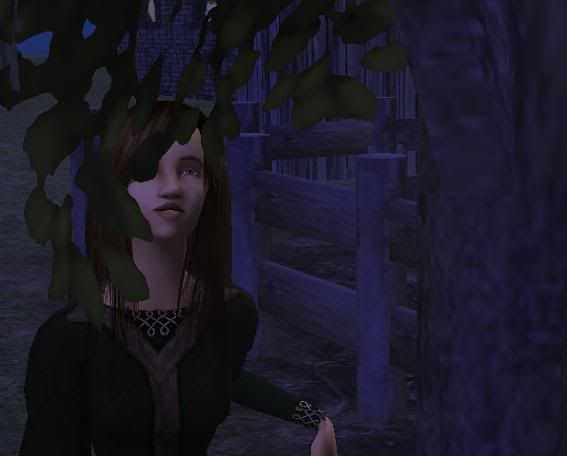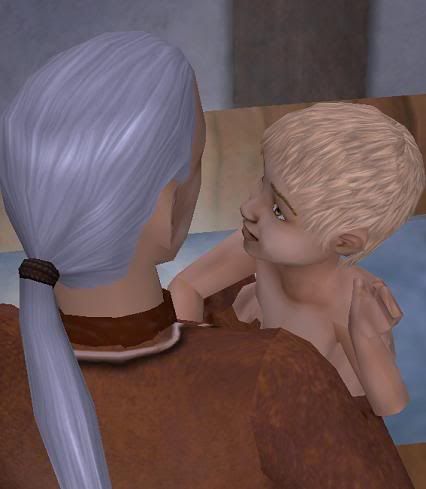 And when Esme was busy with the other chores.
But it was never very long before there was a rush to tend to him again.
He learned to walk,
Which that was a relief for his aunts, who looked forward to time alone to enjoy each other's company.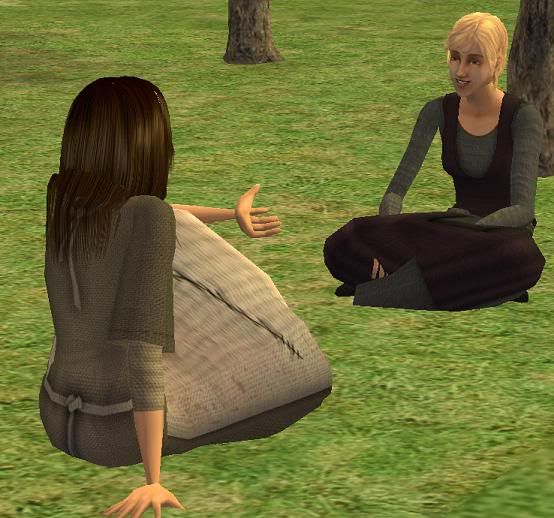 Even with Julien to occupy everyone, however, farm life was very quiet. Other than the Nikolics, an elderly couple, there was no one. Despite the joys of raising little Julien into childhood... life was empty for all of them.